Carrie Dunham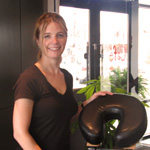 Born in Pennsylvania and raised in Wisconsin, Carrie now lives in Boardman with her husband and three children. Having traveled far and wide, one of her definitions of happiness is, "standing by the ocean".
After earning a college degree in Intercultural Ministries, Carrie returned to school and became licensed as a massage therapist by the Ohio State Medical Board. Whether relieving pain during a massage session or helping to build a home for an impoverished family in Mexico, Carrie finds fulfillment in helping others feel better.
Schedule a massage with Carrie and see how she can help you, too.