Jawna Stokes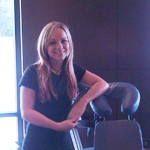 "I believe that touch heals the mind, body , and spirit. I genuinely care for my clients and they can tell. I'm a healer. That's what I am in existence for."
In addition to being a licensed massage therapist, Jawna is also an STNA and RNA.
Jawna is proud mom to two amazing little boys who bring her lots of love and hugs and kisses and smiles! She finds great joy in all of her family roles, mother, daughter, sister, aunt, friend. Her greatest hope is to find balance while being the best she can be. One of her favorite quotes is from "a wise lady", her teacher, Sue Sexton: "Balance is something we all seek, but will never find".
Jawna's poetic soul and her practical skill make her massage sessions a truly healing experience.


her on Facebook:Jawna Stokes LMT