Megan Boosinger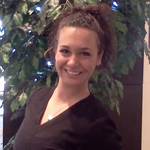 After graduating from Poland Seminary High School, Megan lived for a while in Las Vegas before returning to Ohio and earning her credentials as an Ohio State Licensed Massage Therapist.
When she's not in the office, Megan enjoys bike riding and painting and is happiest at Holidays with "the whole family"!
Megan's energetic personality and her strong knowledge of anatomy are just two of the things that keep her clients coming back for more.
Schedule a massage with Megan and see what everyone's talking about.


her on Facebook: Megan Boosinger LMT